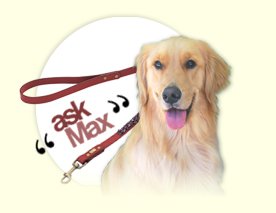 Dear Max,
Lately my dog seems bored with his toys. I would like to give him something new and fun to play with. Are there any homemade toys that can pique my dog's interest?
– DIY Dog Person
Dear DIY,

I love homemade toys! Sure, my favorite toys are the cool ones my humans buy me, but every now and then they'll bring out a homemade toy to change things up. Two of my favorite "do it yourself" (DIY) toys are made from items you probably have around your house right now.
Whenever my humans get a new pair of socks, I get the old pair. They just tie the two socks together and the tug-o-war battle begins! The "play socks" can be washed after I've gotten my paws on them and then tossed out once I've demolished them. Note: My humans always supervise my play with the socks and always put the socks away, out of my reach, after I'm done playing with them, to make sure I don't ingest the socks – that can be dangerous.
I also fancy plastic bottles. There's something satisfying about the crunch of an empty beverage bottle that makes me want to gnaw on it until I've flattened it down. My humans simply rinse out the bottle, remove the cap, and supervise my play while I crunch out the day! For my safety while I'm chewing, they got me the WATER BOTTLE CRUNCHER. The bottle cruncher has a canvas sleeve that protects my mouth from and sharp edges while I'm playing with my recycled toy, plus it's washable, so I can play inside or out without tracking in a mess.


-Max