Dog Health Newsletter with Dog Behavior, Care, Health and Veterinarian Tips.
ALL YOU'VE WANTED TO KNOW ABOUT DOGS BUT DIDN'T KNOW WHERE TO ASK
Ever Have Questions About Your Dog?
What's good for them, what's not? Why do certain breeds act the way they do? What to do about training problems? How you can keep your own beloved dog as healthy as possible?

Most of us do. But we just haven't known where to go for the answers.
Well Now You Do!
It's great new resource called
The Dog Health Newsletter.
And best of all, it's FREE!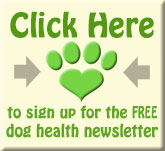 The Dog Health Newsletter is created by veterinarian Dr. Christianne Schelling. And it's full of all kinds of helpful and interesting information about health care, behavior, training, and a host of other topics to help demystify the wonderful world of dogs.
The Dog Health Newsletter is full of important information on how to keep your dog healthy and help identify potential problems before they get out of control.
You will also have reviews of dog products and toys and important safety tips about their use. The Dog Health Newsletter is fun and easy to read, and you'll be getting really valuable and helpful information with every issue.

Most of us with canine companions want to know more about our dogs. We just haven't known where to find the answers. Well, now you do.
With The Dog Health Newsletter you're not alone.
All you need to do is sign up.
Your email address will be safe with us, you can be certain of that. We will never give your information to anyone else. And remember, The Dog Health Newsletter is absolutely free, no strings attached, and you can unsubscribe at any time.
We are looking forward to having you as a subscriber.
Comments? This e-mail address is being protected from spambots. You need JavaScript enabled to view it
Copyright © 2009 Dr. Christianne Schelling